I'm an avid player of fantasy baseball and every year I like to focus on potential sleepers and younger players who can make an immediate impact. I only have a few rules I like to follow when I play fantasy baseball.
First pick is always best available player. (Pitcher or position player)
Draft scarce positions first. (SS/3B/2B)
Never pay for saves! (Look for sleeper closers or work the waiver wire)
My rules aren't really "groundbreaking", but it's given me pretty solid results. So, now that's out of the way, let's get to my sleeper picks!
Position Players
Ike Davis: I don't consider Ike Davis as a "sleeper" in terms of production, but because he's coming off a major ankle injury that cost him most of last season. I put Davis right up with Eric Hosmer, the only difference is Ike Davis won't cost you an early round pick. Before his injury last season, Davis was putting together a ridiculous season with a .302/.383/.543 slash line. Sure, that's probably not sustainable judging by his .344 BABIP, but it's pretty much on level with his career averages. If healthy, you can get Eric Hosmer production much later on in the draft. His injury concerns wouldn't make him my only 1B, but take him later on and you could be rewarded.
Yunel Escobar: After having a rough 2010, Yunel Escobar rebounded to have a very nice 2011 season. He won't give you much in terms of power, but the potential is there and playing at Rogers Centre will help him. He's a gap hitter and should net close to 30 doubles next season. He has excellent plate discipline and he's pretty much 1:1 in terms of his K/BB ratio. When you consider the SS position, you only have a few "elite" players. I think Escobar is on the fringe of being an "elite" SS, but his power may limit him. Far too often in my drafts I see Elvis Andrus and Alcides Escobar going ahead of Yunel Escobar and it has to be on popularity alone. If you need a late round SS that can put up solid numbers, Yunel Escobar is your player. His latest Bill James projection has him putting up a .284/.364/.396 slash line and I'd take that any day of the week from a fantasy SS.
Jason Heyward: An injury filled 2011 tarnished Heyward's fantasy value in 2012, but reports indicate he's healthy and he's made appropriate adjustments to his swing. I think a lot of the luster that Heyward once had is now gone and many people will kind of "forget" about him so to speak. In my mock drafts, I was able to get Heyward anywhere from round(s) 9-12. You know what Jason Heyward brings to the table, good power, good line drive rate, high .OBP, etc. Like Ike Davis, I only consider Heyward a "sleeper" because of his injury last season and not because of his talent level.
J.D. Martinez: I think Martinez has a great chance at rewarding fantasy owners in 2012. I've kept an eye on Martinez since 2010, when my friend got his rookie card in a box of Bowman prospect cards. I know that's an odd reason to follow a player, but his stats seemed pretty decent and I was intrigued. Bill James projects a .297/.353/.458 slash line from Martinez in 2012 and that's pretty amazing for a guy most people haven't heard of (outside of Astro fans). Yes, those are projections, but he's going to be given every chance to prove himself as a MLB starter in 2012. You could take him very late in the draft, or work the waiver wire and pick him if lives up to that projection.
Some other position players to keep an eye on: Devin Mesoraco, Yonder Alonso, Tyler Pastornicky, Ben Revere, Martin Prado, Chase Headley, Anthony Rizzo, Jason Kipnis.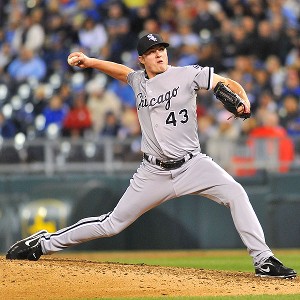 Addison Reed: I think Addison Reed should and will get a crack at being the closer for the White Sox at some point in 2012. This could work it's self out in Spring Training, but it could come down to Matt Thornton and Addison Reed. The White Sox will possibly move Thornton around the All-Star break and that would open the door for Reed. Throughout his career he has averaged around 13 K/9 and maintained a BB/9 under 2 which is pretty remarkable for a young, power pitcher. Monitor the situation in Chicago, and don't hesitate to pick up Addison Reed if and when he becomes the closer.
Kenley Jansen: I think Jansen should win the Dodgers closer position over Javy Guerra, and I think he's going to be a fantastic closer. Last season, he posted 16.10 K/9 in 53.2 IP and he should only build upon that in 2012 (maybe not 16+ K/9, but his stuff is very nasty). If you need saves and you don't want to "pay" for a closer, keep an eye on Kenley Jansen.
Cory Luebke: After putting together a solid in 2011, Luebke is one of my favorite LHP options available in 2012. Last season, he went 6-10 with a 3.09 ERA and 9.82 K/9 and an 2.93 FIP and 3.02 xFIP. He split time as a reliever, but his numbers didn't take a hit either way. Bill James projects Luebke to 13-7 2.88 ERA (3.30 FIP) 168 K (8.49 K/9). Those are very nice numbers for a guy most people have probably never heard of (outside of Padre fans). If you need strikeouts or just solid pitching stats, keep tabs on Cory Luebke.
Other potential sleeper pitchers: Drew Pomeranz, Homer Bailey, Bud Norris, James McDonald, Andrew Cashner, Brandon Morrow, Randall Delgado, Mike Minor, Chris Sale.
Thanks for reading and good luck in your fantasy league in 2012!